Ericom's Server-based Computing (SBC) Solution – PowerTerm® WebConnect – provides flexible and secure enterprise-wide access to business-critical applications. This comprehensive solution enables organizations to respond to a broad range of challenges – from user mobility & access to Windows Terminal Server / Virtual Desktops / legacy host systems, to remote desktop support and more.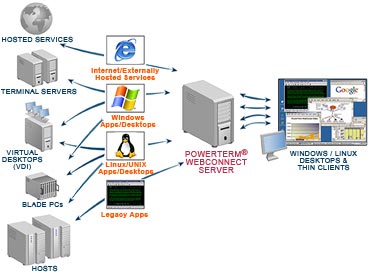 PowerTerm WebConnect connects to applications across the Enterprise - from Windows
and Linux desktops, and thin clients.

Faster & Easier Deployments
Ericom's centrally managed server-based computing solution is fast and simple to configure, intuitive and cost-effective - ideal for companies with remote branches and telecommuters.
Support workforce mobility & flexible working arrangements – from home or on the road
Increase enterprise security – Gain greater control over application access
Expedite Application roll outs – Centralize application publishing and administration and save IT staff valuable time and travel costs
Enhance user flexibility - Access data from Windows/ Linux desktops and thin clients
Lower TCO – optimize productivity levels and reduce licensing costs
Reduce IT complexity and desktop management costs – Eliminate costly client-based installations and technical support
Enhance business agility – ensure business continuity during server interruptions
Client Based Terminal Emulation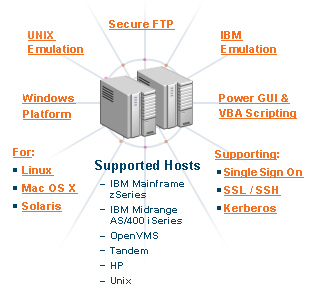 PowerTerm InterConnect (Windows Edition), Ericom Software's terminal emulation product for Windows, maximizes the capabilities of legacy systems with a minimal amount of installation time and software space. PowerTerm InterConnect supports a wide range of hosts, such as IBM Mainframe (zSeries), IBM AS/400 (iSeries), OpenVMS, UNIX, and a diverse range of emulation types. Because PowerTerm InterConnect has such a small footprint, it is easily installable on any PC, making it a simple and fast solution for running legacy applications.
Support for SSH with keys, support for SSL, support for Kerberos with tickets for encryption and single sign-on, and secure file transfer (SFTP) address today's need for secure terminal emulation sessions.
PowerTerm InterConnect is also available for Mac, Unix, and Solaris platforms, allowing organizations to standardize on a single emulation software for all their host access needs.